Struggling to choose which motherboard size you should buy? Read our guide & find out what the difference is between ATX, Micro ATX & Mini ITX Motherboards.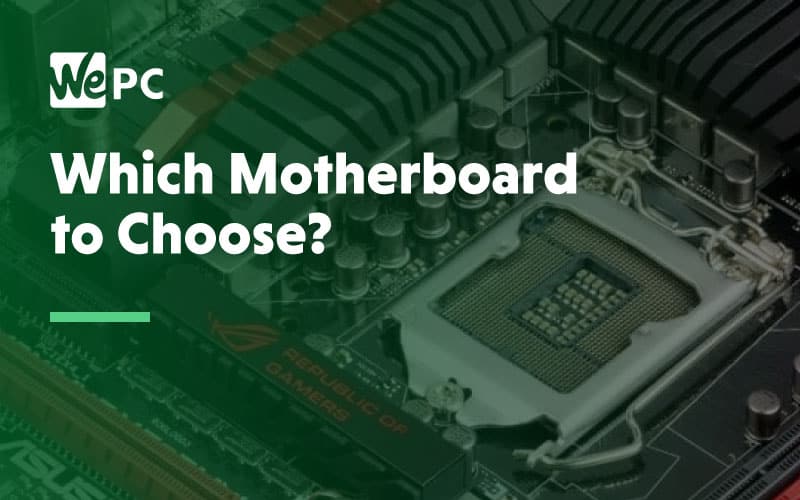 Home » Tips & Tricks » Which Motherboard Size To Choose? Micro-ATX Vs Mini-ITX Vs ATX
WePC is reader-supported. When you buy through links on our site, we may earn an affiliate commission. Learn more
Motherboards come in a variety of sizes and shapes but the most commonly known are ATX, Micro-ATX, and Mini-ITX. Three completely different motherboard form factors that differ in more ways than just size. Whether your building a high-end gaming pc or a sleek inconspicuous home pc for browsing a motherboard is an essential piece of hardware and deciding which one to buy comes down to a few factors.
In the following report, we will illustrate how each motherboard differs, how that impacts your choice, and eventually which one we recommend for your specific needs.
We are going to compare the overall differences in size, compatibility, and pros and cons, to see which motherboard comes out as the best choice for you. So Micro-ATX Vs Mini-ITX Vs ATX, lets dive in.
The first thing we're going to touch on, and the most obvious difference when looking at the 3 types of a motherboard, is the size. Not all motherboards are made equal and they're all designed with different users in mind. But first, what is form factor? Form factor is very simply the specifications of a motherboard – the dimensions, power supply type, the location of the mounting holes, number of ports on the back panel, and so on. Generally, the form factor dictates the size of the case, and smaller form factors were invented to reduce overall build size and thus we get to the dimension's part of each motherboard's FF.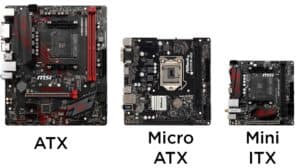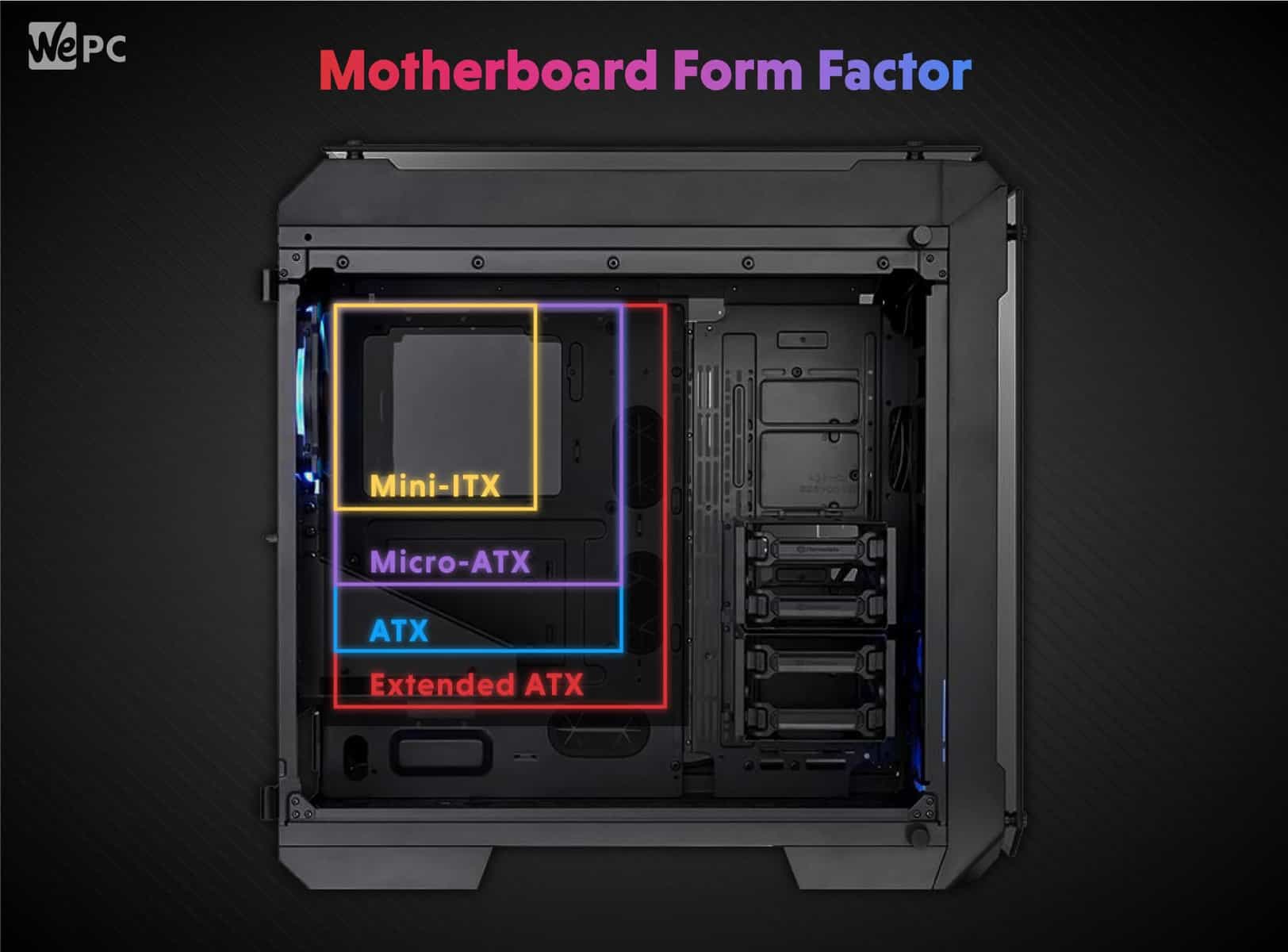 Standard-ATX – 30.5 cm x 24.4 cm
Micro-ATX – 24.4 cm x 24.4 cm
Mini-ITX – 17 cm x 17 cm
As you can see from both the physical dimensions and the motherboard size chart there is a solid difference in size between all 3 motherboard form factors. Most noticeable has to be from the standard-ATX to Mini-ITX. The mini is square in design and is almost half the length and 3/4s the width. The Micro-ATX is again square in design but is both longer and wider than the Mini-ITX. Compared to the Standard-ATX however, it is exactly the same width but 6 cm shorter. So what does all this mean and how does it affect what each motherboard can accommodate?
After the obvious size difference between the 3 types of a motherboard, the next most noticeable distinction is the RAM capacity that each of the form factors can accommodate. Both ATX and Micro-ATX have 4 RAM slots Vs the Mini-ITX, which only has 2. In a nutshell, this means the Mini-ITX can only accommodate a maximum of 2 x 16gb ram sticks, a total of 32gb. Whereas the other two styles can house double this. Quite a big difference, especially if you're looking at building a powerful rig, you can see how this is all starting to piece together.
Further to the RAM capacity, another huge contrast in all three is how many PCIe slots they have to play with. A PCIe slot is a high-speed hardware interface for connecting peripheral devices such as GPU (Graphics Processing Unit) and soundcard. PCIe slots for gaming rigs and high-performance work setups are considered fairly essential which is why the ATX usually has around 7 PCIe slots. However, specifically designed mining motherboards come equipped with up to 19 PCIe slots. ATX aside, the Micro-ATX usually comes with 4 PCIe slots, still sufficient for many scenarios, whilst the Mini-ITX only comes with 1.
Finally, we come to the price, and you've probably worked out by now that the price of all 3 varies quite dramatically. Looking at them and understanding the limitations of each form you're probably under the impression that the Mini-ITX is going to be the cheapest but you'd be quite wrong. Due to its small size, the mini-ITX is actually the 2nd most expensive leaving the Micro-ATX as the cheapest option available. The ATX is understandably the most expensive due to its compatibility, size and overall performance level.
Each of the 3 form factors has its own unique pros and cons and ultimately they can be determined by which type of computer you're looking to build. Below we've put general pros and cons for the everyday consumer.
[mks_col]
[mks_one_half]
Pros
[/mks_one_half]
[mks_one_half]
Cons
[/mks_one_half]
[/mks_col]
[mks_col]
[mks_one_half]
Pros
[/mks_one_half]
[mks_one_half]
Cons
[/mks_one_half]
[/mks_col]
[mks_col]
[mks_one_half]
Pros
[/mks_one_half]
[mks_one_half]
Cons
[/mks_one_half]
[/mks_col]
As you can see from the table above all 3 have pros and cons relevant to a certain area. For example, you can take from the chart that the Mini-ITX is only suitable for small pc builds and wouldn't be anyone's first choice when looking to build something more powerful or versatile. The Micro-ATX is clearly the best all-rounder being both smaller than the ATX whilst still having a decent amount of RAM capacity and PCIe slots. Leaving the ATX for consumers wanting to build a beast rig which is capable of handling literally every scenario including excessive multi-tasking and mining.
You're at the stage in the article where you probably have a good understanding of what each form factor has to offer and you're trying to decide which one to go for. If that's the case, below I'm going to discuss some scenarios in which each form factor can be used:
If you're looking into buying and putting together your own gaming PC there are strictly 2 things you need to ask yourself before choosing the motherboard form factor that's going to suit you best. Firstly, how powerful do you need this rig to be? Most games these days can be run using a decent CPU and a singular GPU of good quality. This being said, for price and practicality we would highly recommend a Micro-ATX motherboard with its decent RAM capacity and ability to have 4 PCIe slots running simultaneously. The only scenario where the Micro-ATX is not going to be suitable is if you're wanting to have a large number of PCIe outputs, such as multiple GPU's for mining. Additionally, if you want to do some heavy overclocking or simply want something that adds to the overall aesthetics of the build then you're probably going to be leaning towards the ATX.
Many of the tips and recommendations for the work computer are going to be very similar to that of the gaming setup. Basically, unless you are doing mass photo and video editing with numerous tabs going at once, you aren't going to require anything bigger than the Micro-ATX motherboard form. You have sufficient PCIe slots and the same RAM capacity of the ATX so technically you can produce a rig that is more than sufficiently powerful for your workload.
If you're considering a desktop home PC build then your options are a little more varied and depend mainly on design and performance. For example, if you're looking to build something sleek and inconspicuous then the Mini-ITX is absolutely the best shout to go for. A little bit more expensive but the size really makes the difference. Alternatively, if the size is not your main agenda then again the Micro-ATX is going to be most suitable for an all-round product.
So we compared ATX vs Micro ATX vs Mini ITX sized motherboards to truly see the difference and assist in choosing your next board.
Whether you're building a monster gaming rig or a small home desktop that doesn't take up a tonne of space, the perfect motherboard is waiting to accommodate your exact needs.
Which motherboard did you use for your own build? Was it a gaming build or work station? Let us know in the comments section below!
Ben Atkins Chafer
Ben Atkins Chafer
Ben Atkins Chafer
Ben Atkins Chafer
Jack has been interested in computers and tech since 10 years old when he decided to dismantle his PC to see how it worked. Ever since Jack has had a passion for IT and gaming beyond any other. He loves the data and testing process and allowing himself to take an analytical and technical approach to PC hardware. He's even gone as far as getting educated in cyber security.
Ben Atkins Chafer
Ben Atkins Chafer
Ben Atkins Chafer
Ben Atkins Chafer
The Warehouse, Use Space, Paddock St, Manchester
M12 6PN
WePC is the essential site for serious PC gamers. We offer everything from high end PC custom builds and advice to the latest hardware and component reviews, as well as the latest breaking gaming news. You take your gaming PC seriously. So do we. WePC.
© 2022 WePC. All rights reserved.
Part of